Quiltmakers
RLC Quiltmakers is a small group that enjoys fellowship while sewing quilts for use in the local and world community. Most quilts go to Lutheran World Relief and the families of the Habitat for Humanity homes that RLC Disciples help to build right here in Indianapolis.
Most of the tasks that quilters complete do not require a sewing machine, although sewers and machines are always welcomed! During quilting sessions, quilters often: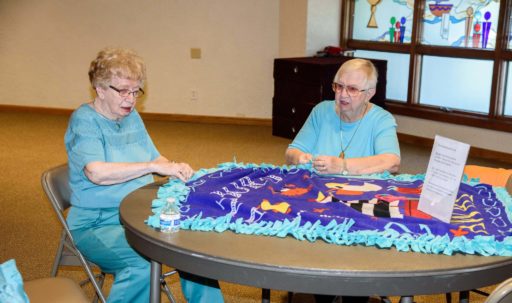 Cut backings, batting, and smaller pieces of fabric
Sew tops and squares together
Prepare quilt-top sewing kits
Sandwich tops, batting, and backs for sewing
Complete tying for comforter quilts
Quiltmakers generally meets twice monthly, usually from 10am-4pm on a Saturday and 10:15am-4pm on a Thursday. Participants are encouraged to bring a lunch and join their fellow quilters for a day of fun and fellowship. Check the Weekly Events page, the Sunday bulletin, or the Bell Ringer newsletter for specific dates.